Take a shower / and shine your shoes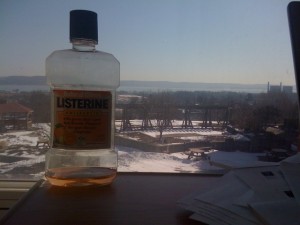 In December, John bought me three bottles of Listerine when I couldn't swallow anything and the only taste in my mouth was evaporated saliva. Of the three, it was the "Natural Citrus" flavor that appealed to me most, so whoever was at my bedside would periodically take a green-sponge-on-a-stick swab and, like New York's squeegee men of yore leaping out into traffic as the light turned red, swab and scrub my gums and teeth. Nobody ever asked me for a dollar, though lord knows they deserved many of them, by the end. "Natural Citrus" tasted clean and refreshing, but to be honest, it didn't taste all that much like actual citrus. I'm confirming that right now, performing the miracle of eating and swallowing a tangerine I peeled myself.
Still, I've gone through an awful lot of mouthwash.
I'm going home today, where my hat is hung and my wife and nascent child sleep, but home has changed in my absence. When I left our apartment 99 days ago, I was well; I'm returning home still Not What I Was, with no surety that I'll ever be that man again. Both Kate and I would love to believe that my return home marks some kind of end to this, but really, it's just another milestone. When can we call it "done," after all? When I can walk without crutches? When the white plastic AFO braces come off? Does a cane count? When I stop needing physical therapy? When I can hold and carry an eight-pound baby in my arms without straining? Or will it be when the nerve at the end of my nose stops tingling?
Or if none of these things happen, and this becomes my status quo: I walk on crutches and rest on chairs and peel my own tangerines: will I be "done" when 24 hours pass and I think only about my projects and my family and friends? When the body I inhabit becomes, in my mind, simply the vehicle in which I move, travel, love, write, sleep… and not, as it still is, something to be compared to the pictures of Kate and some smiling man on their honeymoon, a bearded man hiking in Arizona, some oddball hoisting his laughing niece in the air with his feet. When I think of my body As Is, rather than As Was. The status quo ante bellum acknowledged and left behind.
After all, look at me, 99 days later: peeling my own goddamn tangerine and typing, and shortly to walk out of here under my own power, albeit quadripedal. It's a long ways from the paralyzed, ventilated, terrified man I was in December. I am profoundly grateful – grateful for the luck and speed of my recovery, grateful for the care I've received and the love I've been granted from all the swab-wielders in my life and those at a distance, too.
And today I go home, leaving the smooth floors, step-free entrances and familiar faces of Helen Hayes behind for the honking streets and careening pedestrians of upper and lower Manhattan. I'm sad, I'm psyched, I'm scared. Sad because in the last two months here I've made great strides (ha ha) in recovery as well as some good friends; scared because I'm afraid I'll slow down at the former and miss the latter; psyched because tonight I'll get to sleep in my own bed with my own wife and my own cats and begin the process of figuring out my life's next "normal." Scared that I'll fall again (I will) and psyched that I think I might keep getting better for a while (I will). Sad to leave the warm attention of a team of people whose job and passion is to help people make progress: physically, mentally, or both.
---
Tricia, who had been coming into my room every morning to stretch my legs and talk with me about computers, her niece, Ireland, and whatever else was on our minds, stopped coming by on Tuesday. Wednesday, I saw her in the hall and mentioned that I'd missed her the previous two days.
"Buck up, junior," she said, and chuckled. "You're independent, now."
---
Yesterday, when all the therapy was done for the day, all the PTs and OTs and COTAs got together in the therapy room and produced a much-signed card for me and a pan of brownies. I rested one leg over the knee of the other. We all sat and chatted and ate brownies for the better part of 45 minutes, marveling at how far I'd come in 2 months and Kate's wonderful belly and Matt's quad-rugby game today at West Point. Hugs all around, and a few tears, and promises to return to show off my improved walking skills and eventually the baby, of course.
I'll miss the view of the Hudson, and trainspotting. I'll miss OTJohn and PTJohn, Laurell, Mama Mary, Judy, Siobhan, Liz, Connie, Sarah, Kerry, Peg, Christa, Shina, Matt, Rob, Janine, Maureen, Alyssa, Jeanette, Bea, Peter, Sheila, Dr. Pomeranz, Thomas, Valsa and Leelah, ToniAnn… and you, Scarecrow, you I'll miss most of all.
It's time to leave Oz. There's no place like home, after all.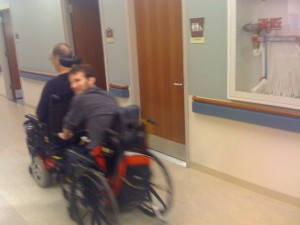 (Last night, Kate and I ordered in Chinese food and ate with Roger, who's been a frequent dinner companion of ours. On the way back, Roger and I tried an experiment we'd talked about but hadn't tried yet: using his power chair to tow a non-powered chair and its occupant. Turns out the motors in those things are sufficiently overpowered that towing me was imperceptible. We made several circuits around the unit, amusing the nurses, aides, and ourselves.)