From the bottom of a bottle
Bless me, blog, for I have continued to live my life, largely undocumented save for sporadic updates on Twitter. It's been 90 days, more or less, since I left Helen Hayes Hospital, and about two months since my last post of any substance.
How do I know it's been about 90 days? Because I just had the last of a bottle of multivitamins, purchased the day I got home. Lightning just knocked the bottle on the floor, and it's rolling around with a hollow sound not unlike Danny's BigWheel in The Shining rolling over the hotel floors. Except in our house there are no ghostly twins around the corner, just a skinny cat. "Adam … come and feed me wet food … FOREVER …"
[caption id="attachment_648" align="alignnone" width="275" caption="It's a Complete Formula … for MEN"]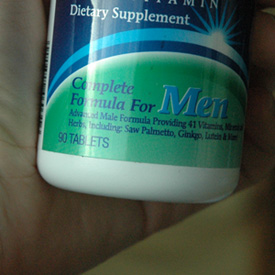 [/caption]
It's a Saturday morning, and after putting myself back to sleep at 5, I woke at 6:30 from dreams of rescue and superpowers. Kate and I will be going to an all-day birthing class today for which I have not prepared other than to purchase snacks, read a few birthing method books, and gently encourage Kate to do stretches.
My own stretching regimen has been occasional of late, at best, so I'm a hypocrite.
I spent weeks in April and May, more weeks than I wanted to, away from work. My days were taken up with working out in the gym downstairs, reading books, spending long stretches of time on the phone with our insurance company, and sporadically heading downtown to see friends at work and find out what had changed in my absence, so that I could hit the ground running when I finally did return.
And I've hit the ground running, no question. Our Web Editor left to join an all-digital news startup that's still under a cloak of secrecy, and our dedicated videographer went out on maternity leave two weeks ago. I've been shooting and editing video and helping out the interim web editor and updating our style guides and pitching pieces and managing our herd of interns. My old day-to-day production duties got farmed out to some very capable people while I was out sick, so on my return, I've been free to look at where the show's having problems and put my shoulder to them.
At home, Kate's nesting instinct has kicked in – several trips to IKEA later, we've got shelves and bookcases for baby gear, much of it wonderful hand-me-downs. (There are advantages to being slightly behind the curve on child-bearing compared to your peers.) My gym-going has reduced to only 2-3 times a week, instead of daily, though I'm still in THE ANSWER IS YES mode when it comes to food.
Every day, without exception, we touch or see or handle some piece of phenomenal generosity that came to us while I was sick. Gratitude feels good, although we're lousy people about whom our mothers would be appalled: we haven't written our grand thank you project, yet, and feel guilty about it.
We'd better do it soon, though, if we're going to. 28 days to B-Day, and counting.